Joe Louis vs Max Schmeling (2nd meeting), June 22, 1938
Joe Louis vs Max Schmeling, II (Full Film, HD)
ПОХОЖИЕ ВИДЕОРОЛИКИ
4 г. назад
I don't receive any money for this video, but I always highly appreciate any donations @ Paypal - [email protected] This video is based off of my OPINION. Fights which I believe warrant appreciation given the time, what was at stake and/or pure rivalry between two men or shall I say two warriors! HONORABLE MENTION: Floyd Mayweather vs Diego Corrales - Jack Johnson vs James J. Jeffries - Rubin Carter vs Dick Tiger - Evander Holyfield vs Mike Tyson - Willie Pep vs Sammy Saddler I & II - Diego Corrales vs Jose Luis Castillo - George Foreman vs Ron Lyle - Aaron Pryor vs. Alexis Arguello I -Henry Armstrong vs. Lou Ambers -Carmen Basilio vs. Sugar Ray Robinson - Manny Pacquiao vs Ricky Hatton- Manny Pacquiao vs Juan Manuel Marquez IV Enjoy! and subscribe for more boxing vids! LONG LIVE BOXING!
10 г. назад
Rocky Marciano knocks out Joe Louis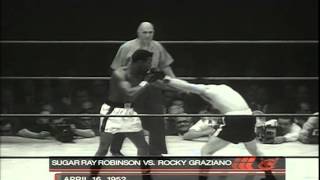 5 г. назад
1952-4-16 Chicago Stadium, Chicago, Illinois, USA 'Sugar' Ray Robinson (130-2-2) vs Rocky 'The Rock' Graziano (67-8-6) World Middleweight Championship Referee: Tommy Gilmore Link in BoxRec: http://boxrec.com/media/index.php?title=Fight:18509
9 мес. назад
Ten Boxers With Deadly Uppercuts
9 г. назад
On June 22nd, 1938, Joe Louis and Max Schmeling met for the second time in the boxing ring. Schmeling had won the first first fight. The fight was held in Yankee Stadium before a crowd of 70,043. It was broadcast by radio to millions of listeners throughout the world, with radio announcers reporting on the fight in English, German, Spanish, and Portuguese. Louis battered Schmeling with a series of swift attacks, forcing Schmeling against the ropes and giving him a paralyzing body blow. Schmeling was knocked down three times, and only managed to throw two punches in the entire bout. On the third knockdown, Schmeling's trainer threw in the towel and referee Arthur Donovan stopped the fight.
1 г. назад
Joseph Louis Barrow (May 13, 1914 – April 12, 1981), best known as Joe Louis and nicknamed the "Brown Bomber", was an American professional boxer who competed from 1934 to 1951. He reigned as the world heavyweight champion from 1937 to 1949, and is considered to be one of the greatest heavyweights of all time. Louis' championship reign lasted 140 consecutive months, during which he participated in 26 championship fights; a 27th fight, against Ezzard Charles in 1950, was a challenge for Charles' heavyweight title and so is not included in Louis' reign. Louis was victorious in 25 title defenses, a world record second only to Julio César Chávez with 27. In 2005, Louis was ranked as the best heavyweight of all time by the International Boxing Research Organization, and was ranked number one on The Ring magazine's list of the "100 greatest punchers of all time." Louis' cultural impact was felt well outside the ring. He is widely regarded as the first African American to achieve the status of a nationwide hero within the United States, and was also a focal point of anti-Nazi sentiment leading up to and during World War II.[3] He was instrumental in integrating the game of golf, breaking the sport's color barrier in America by appearing under a sponsor's exemption in a PGA event in 1952. Detroit's Joe Louis Arena, home of the Detroit Red Wings of the National Hockey League, and the Forest Preserve District of Cook County's Joe Louis "The Champ" Golf Course, situated south of Chicago in Riverdale, Illinois, are named in his honor.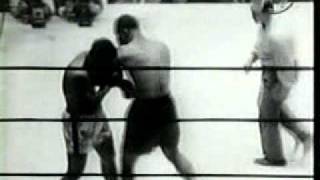 7 г. назад
Рокки Марчиано против Джо Луиса, 26 октября 1951 г., 1-5, 7 и 8-ой раунды, победа Марчиано в 8-ом раунде (TKO)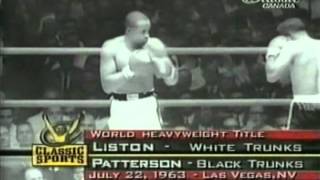 6 г. назад
Sonny Liston vs Floyd Patterson (2nd meeting). Convention Center, Las Vegas, Nevada, United States. Санни Листон против Флойда Паттерсона (вторая встреча), 22 июля 1963 г., победа Листона в 1-ом раунде (KO)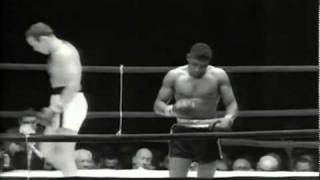 7 г. назад
Ингемар Юханссон против Флойда Паттерсона, 20 июня 1960 г., победа Паттерсона в 5-ом раунде (KO)
6 г. назад
Beginning of the 1966 , Prime Ali making fun with Joe Louis , and he is goddamn right.Scientificly and Fundementally Ali is way way better fighter than Louis , He could beat 25 win record if they were not Vietnam War situtation. There's big difference between 1940's boxing and Late 60's.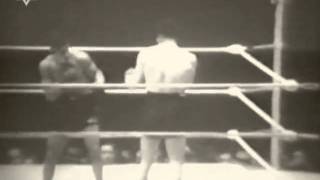 7 г. назад
Макс Бэр против Джо Луиса, 24 сентября 1935 г., все раунды, победа Луиса в 4-ом раунде (KO)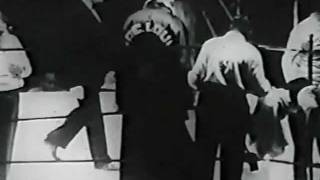 6 г. назад
Joe Louis vs Max Schmeling (2nd meeting). Jun. 22, 1938. Yankee Stadium, Bronx, New York, United States. Джо Луис против Макса Шмелинга (вторая встреча), 22 июня 1938 г., победа Луиса в первом раунде (KO)