Interview with boxer Floyd Patterson. The clip is from a 1985 teleshow «Once A Star»
Interview with Floyd Patterson
ПОХОЖИЕ ВИДЕОРОЛИКИ
5 г. назад
Muhammad Ali talks about Floyd Patterson and other black athletes influence on civil rights movement. Licensing, Rights & Clearances + 1 866 815 6599 [email protected] http://www.wazeedigital.com/ Formerly Thought Equity Motion and T3Media Inc.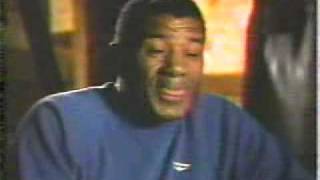 11 г. назад
Sonny Liston one of the Greatest of All time 54-4, 39KO While at the Missouri State Penitentiary in Jefferson City, he started boxing. On Oct. 30, 1952, he was released on parole and he turned professional the following September. His first pro fight lasted 33 seconds: Liston leveled Don Smith with his first punch. Liston was a marked man in St. Louis, where police were known to stop him on sight, sometimes without cause. On May 5, 1956, he erupted. When a cop confronted him and a friend about a cab parked near Liston's home, he assaulted the officer, breaking his knee and gashing his face, and took his gun. Liston received nine months in the city workhouse. After his release, Liston had another altercation with a cop -- this time he left an officer headfirst in a trash can. A police sergeant put out the word that Liston should leave town or else.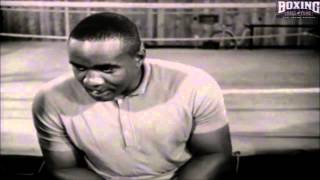 4 г. назад
A rare interview with former Heavyweight champion of the world, Sonny Liston.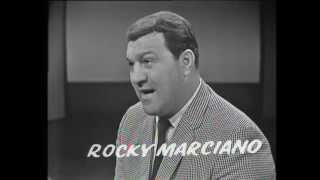 5 г. назад
Australian sports broadcaster Ron Casey interviews boxing legend, Rocky Marciano. Marciano discusses Muhammad Ali (referred to as Cassius Clay) and his most recent defence of the World Heavyweight Title against Brian London. Marciano also discusses Ali's impact on the world of boxing. Interview broadcast on Channel 7 (HSV-7) Melbourne, Australia on Sunday 7 August 1966. A brief clip taken from "The Very Best of World of Sport" DVD. ******************** UPDATE APRIL 2013 ******************** Regarding Muhammad Ali being referred to as Cassius Clay throughout the interview, I believe it is important to consider this exchange in its proper historical context. Australia in the 1960's was, for the most part, a conservative, Anglo-Celtic Christian nation. Islamic religion and culture were virtually unknown to most people. It is fair to say this ignorance extended to Ron Casey and the team at World of Sport. It is true that Ali changed his name years before this interview was conducted, but we must allow Ron Casey and Rocky Marciano some latitude. When a "young loudmouth" boxer with a history of self promotion changes his name, it is not difficult to understand why conservative white society may assume this to be a publicity stunt. Better to refer to him by his old, easy-to-pronounce name than his exotic, foreign moniker. To modern-day sensibilities, referring to Muhammad Ali as Cassius Clay seems disrespectful. But peeling back 50 years of social and political progress makes this reference easier to understand. Insensitive? Perhaps. Malicious? I don't think so. I cannot comment on the American experience, but Australian society simply wasn't culturally diverse enough to accept Ali's change of name without some level of skepticism.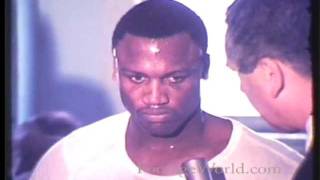 6 г. назад
I am re-posting since the previous upload seems to be messed up...and out of sync. Great (lost) footage of Joe, Quarry & Patterson. Rare outtakes and B-roll material (16mm film) that has been exclusively archived by Footage World. Some material as-is, but very interesting and important to preserve.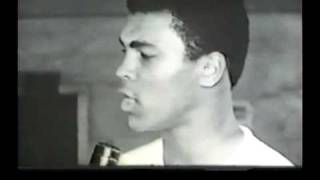 9 г. назад
Ingemar Johansson | Muhammad Ali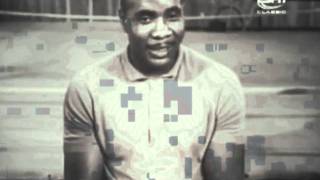 6 г. назад
My man. Very rare interview of Sonny Liston talking about how he got started in boxing, his fights with Williams and Patterson and his training routine. Don't confuse shyness with dullness, Sonny was reluctant to talk to the press - the always painted a bad picture of him. Dwight Muhammad Qawi Braxton ATG Philly Joe Frazier Bernard HopkinsTags:pernell whitaker jersey joe walcott louis julio chavez evander holyfield lennox lewis felix sturm oscar de la hoya floyd mayweather miguel cotto marquez manny pacquiao pacman boxing boxer ko knockout tribute robbery mike tyson rocky marciano oscar de la hoya manny pacquiao foreman fight miguel cotto dead death muhammad ali cassius mike tyson clay lennox lewis eric morales barrera floyd mayweather fedor emelianenko ufc boxing ko k.o. knockout kimbo slice evander holyfield nogueira wladimir vitali klitschko haye mma brutal bareknuckle headbutt lowblow foul dirty boxer funny bob sapp david cesar chavez joe frazier rocky marciano larry holmes felix trinidad jackson new tribute video highlight dirtiest best brock lesnar julio cesar ricky hatton randy couture israel vasquez juan manuel marquez antonio margarito felix tito trinidad antonio rodrigo minotauro marco antonio barrera john ruiz freddie roach hector camacho pernell whitaker willie pep sugar ray robinson shane mosley antonio tarver roy jones joe cortez lennox lewis david haye haymaker wladimir vitali vladimir klitschko klitchko prediction prefight postfight press conferencetex cobb gerry cooney jerry pierre coetzer floyd roger mayweather arturo gatti rocky graziano graciano tony zale dariusz michalczewski rocky rocchigiani henry maske james toney vassily jirov vasily unbelievable knockout ko k.o. kos k.o.s ko.s knockouts fight of the year joe louis lewis primo carnera buddy max baer tony galento lamon brewster monte barrett barret amir khan oleg maskaev nicolai valuev nikolai joe calzaghe sergej sergey liakhovich liakovich shannon briggs evander holyfield zultan ibragimov sultan meldrick taylor pauli ayala paul spadafora prince prinze naseem hamed naz johnny tapia john ruiz wilfredo gomez wilfried benitez george foreman big ron lyle earnie shavers joe frazier ken norton angelo dundee eddie futch riddick bowe Henry Akinwande Muhammad Ali Max Baer Michael Bentt Riddick Bowe James J. Braddock Shannon Briggs Tommy Burns Primo Carnera Ruslan Chagaev Ezzard Charles Gerrie Coetzee James J. Corbett Francesco Damiani Jack Dempsey Michael Dokes Jimmy Ellis Bob Fitzsimmons Joe Frazier Marvin Hart Herbie Hide Evander Holyfield James J. Jeffries Ingemar Johansson Jack Johnson Vitali Klitschko Sonny Liston Joe Louis Rocky Marciano Ray Mercer Tommy Morrison Greg Page Floyd Patterson John Ruiz Max Schmeling Bruce Seldon Jack Sharkey James Smith John L. Sullivan John Tate Ernie Terrell Tony Tubbs Nikolay Valuev Jersey Joe Walcott Mike Weaver Jess Willard Tim Witherspoon Muhammad Ali Lou Ambers Sammy Angott Fred Apostoli Ray Arcel Alexis Argüello Baby Arizmendi Henry Armstrong Abe Attell Max Baer Caleb Baldwin Carmen Basilio Wilfred Benítez Nino Benvenuti Jack Kid Berg Jimmy Bivins Umberto Branchini Joe Brown Panama Al Brown Ken Buchanan Charley Burley Orlando Canizales Miguel Canto Tony Canzoneri Michael Carbajal Jem Carney Jimmy Carter Marcel Cerdan Antonio Cervantes Bobby Chacon Arthur Chambers Ezzard Charles Kid Chocolate Joe Choynski Stanley Christodoulou Billy Conn Eugène Criqui José Cuevas Jack Dempsey Jack (Nonpareil) Dempsey Jack Dillon Professor Mike Donovan Paddy Duffy Don Dunphy Roberto Durán Lou Duva Billy Edwards Gabriel Elorde Jeff Fenech Bob Fitzsimmons George Foreman Bob Foster Joe Frazier Gene Fullmer Khaosai Galaxy Víctor Galíndez Joe Gans Kid Gavilán Joey Giardello Mike Gibbons Wilfredo Gómez Humberto Mike Tyson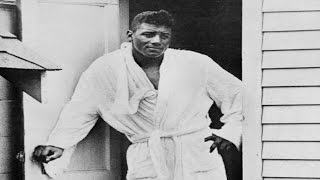 2 г. назад
Highlights of the former 2x undisputed Heavyweight world champion. For questions or requests Email at: [email protected] Floyd Patterson - Was an American professional boxer who held the undisputed world heavyweight championship. At the age of 21, he became the youngest boxer to win the world heavyweight title, and was also the first heavyweight to regain the title after losing it. As an amateur he represented the United States at the 1952 Olympics, winning a gold medal in the middleweight division. Google+: https://plus.google.com/104715270079859886366/ Dailymotion: http://www.dailymotion.com/haNZAgod Vimeo: https://vimeo.com/user41971768 Highlights Knockouts Tribute ----------------------------------------------- haNZAgod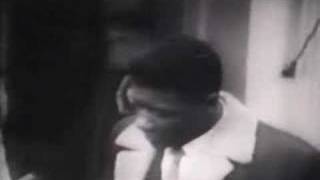 10 г. назад
Patterson interview after a meeting with the president and the signing of the fight between Patterson and Liston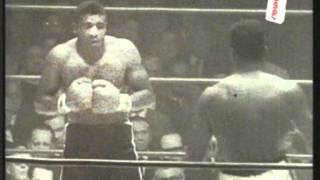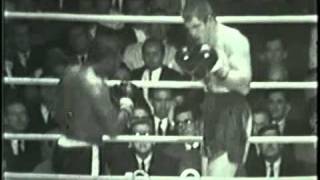 7 г. назад
Флойд Паттерсон против Джерри Кворри, 9 июня 1967 г., 1, 2, 7, 9 и 10-ый раунды, ничья (MD)