Interview with boxer Floyd Patterson. The clip is from a 1985 teleshow «Once A Star»
Interview with Floyd Patterson
ПОХОЖИЕ ВИДЕОРОЛИКИ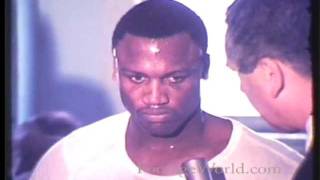 7 г. назад
I am re-posting since the previous upload seems to be messed up...and out of sync. Great (lost) footage of Joe, Quarry & Patterson. Rare outtakes and B-roll material (16mm film) that has been exclusively archived by Footage World. Some material as-is, but very interesting and important to preserve.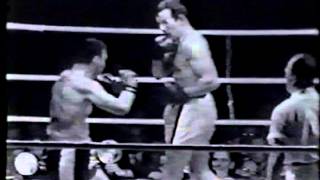 6 г. назад
Extended highlights of the underrated and unheralded Joe Erskine travelling to enemy territory, as he takes on future heavyweight world champion Ingermar Johansson for the European title in Gothenburg, Sweden.
5 г. назад
Arturo Gatti vs Tracy Patterson I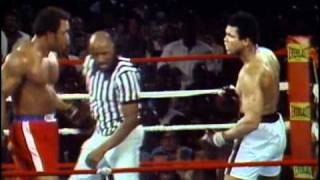 8 г. назад
George Foreman vs Muhammad Ali - George Foreman defends the Heavyweight Championship of the World for the third time against former Champion, Muhammad Ali. Ali at 32, had been given little change against the fearsome puncher who had knocked out both Frazier and Norton, whom both had beaten ali in the past, in 2 rounds. The fight took place in Kinshasa, Zaïre (todays Congo), and was put together by promotor Don King. This is considered by many as the most significent fight of Muhammad Alis career. The fight was called Fight of the Year for 1974. - Their records at the time George Foreman: 40-0 Muhammad Ali: 44-2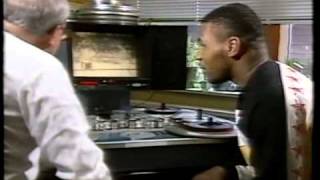 8 г. назад
Great Documentary - Tyson talks about Dempsey, Louis, Ali and the other great Heavyweight Champions of the Past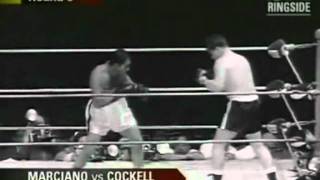 7 г. назад
Rocky Marciano vs Don Cockell. May 16, 1955. Kezar Stadium, San Francisco, California, United States. Рокки Марчиано против Дона Коккела, 16 мая 1955 г., 1, 3, 6, 8 и 9-ый раунды, победа Марчиано в 9-ом раунде (TKO)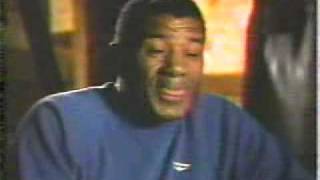 12 г. назад
Sonny Liston one of the Greatest of All time 54-4, 39KO While at the Missouri State Penitentiary in Jefferson City, he started boxing. On Oct. 30, 1952, he was released on parole and he turned professional the following September. His first pro fight lasted 33 seconds: Liston leveled Don Smith with his first punch. Liston was a marked man in St. Louis, where police were known to stop him on sight, sometimes without cause. On May 5, 1956, he erupted. When a cop confronted him and a friend about a cab parked near Liston's home, he assaulted the officer, breaking his knee and gashing his face, and took his gun. Liston received nine months in the city workhouse. After his release, Liston had another altercation with a cop -- this time he left an officer headfirst in a trash can. A police sergeant put out the word that Liston should leave town or else.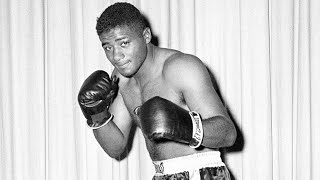 3 г. назад
Defensive highlights of the former 2x Heavyweight champ! Floyd Patterson - Was an American professional boxer who held the undisputed world heavyweight championship. At the age of 21, he became the youngest boxer to win the world heavyweight title, and was also the first heavyweight to regain the title after losing it. As an amateur he won a gold medal at the 1952 Olympics in the middleweight division. Google+: https://plus.google.com/104715270079859886366 Dailymotion: http://www.dailymotion.com/haNZAgod Vimeo: https://vimeo.com/user41971768 Highlights Knockouts Tribute ------------------------------------------------- haNZAgod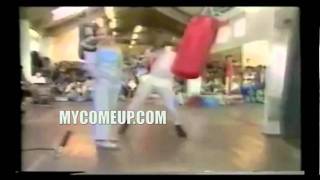 8 г. назад
For More Daily Inspiration & Motivation Go to http://mycomeup.com/ is the number one web platform to find inspiration and network with like-minded individuals.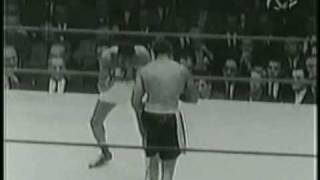 10 г. назад
Patterson becomes the world heavyweight champion at 21 years of age.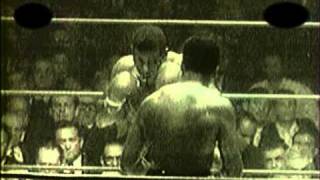 7 г. назад
Muhammad Ali vs Floyd Patterson, 1965, Review