Film by Dick Williams.
Документальный фильм Дика Уильямса
Hearted Tiger: Max Baer
ПОХОЖИЕ ВИДЕОРОЛИКИ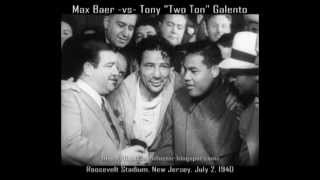 5 г. назад
The Max Baer vs Tony Galento fight film is a classic document of pre-war Sports Americana. In 1940, Max Baer and Tony Galento, the two most colorful boxers of their day, met for a title elimination showdown in Jersey City. It was a titanic slugfest. The fight began even before the opening bell as Galento threatened Baer during the referee's instructions. The two went right to work in the first round, with Galento on the attack. By round 3 however, Baer was taking control, fighting in flurries, in between clowning and taunting the relentless Galento. After 7 rounds of bruising action, Galento collapses in his corner and cannot answer the bell for the 8th. It was Baer's last victory. The Movie The film is noteworthy for several reasons. The fight was among the best filmed bouts of the day. It was also among the first fight films produced as the interstate traffic of boxing films was lifted. For the first time since 1910, boxing films could be distributed across state lines and shown across the country. As a result, fight films became feature productions in theatres, rather than simply newsreels. In the decade prior to the television boom, movie audiences were treated to complete fight pictures only days after the event. The Film This footage in this video is taken from three sources and shows all rounds of the fight. The opening potion is from a VHS copy that suffers from generation loss. Despite the lack of quality, I thought it was important to show the ring intros and referee's instructions, as it includes Galento's trash talk and threat to get "twice as rough" as Baer, as if Tony ever needed an excuse. The remaining (and superior) source footage begins after the opening bell, and is taken from an extended 16mm print, with Round 3 taken from the Castle Films highlight. The final minute includes the famous "after-battle" interview with Max Baer, Lou Costello and Joe Louis. See more historic film from the archive: http://fightfilmcollector.blogspot.com/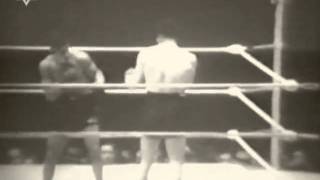 7 г. назад
Макс Бэр против Джо Луиса, 24 сентября 1935 г., все раунды, победа Луиса в 4-ом раунде (KO)
4 г. назад
One of my favorite fighters of all time, Max Baer often looked as a villain was a kind, gentle champion. He had power and a great chin. This is my tribute of him with Knockouts and highlights of this great boxer.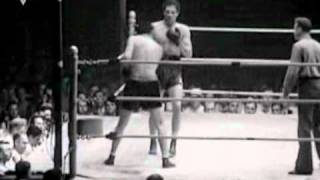 7 г. назад
Макс Бэр против Макса Шмелинга, 8 июня 1933 г., победа Бэра в 10-ом раунде (TKO)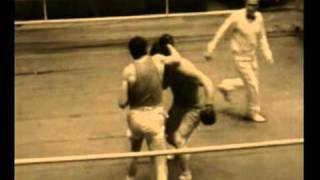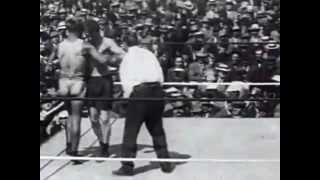 5 г. назад
Stanley Ketchel vs Billy Papke. Стэнли Кэтчел против Билли Папке, 5 июля 1909 г., 1, 9, 13, 17 и 20-ый раунды, победа Кэтчела (UD)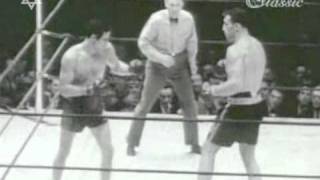 7 г. назад
Макс Бэр против Примо Карнеры, 14 июня 1934 г., победа Бэра в 11-ом раунде (TKO)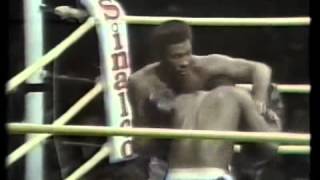 7 г. назад
Floyd Patterson vs Jimmy Ellis. Sep. 14, 1968. Solna Fotbollsstadum, Stockholm, Sweden. Флойд Паттерсон против Джимми Эллиса, 14 сентября 1968 г., поражение Паттерсона (PTS)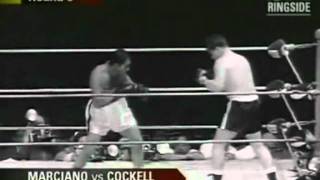 7 г. назад
Rocky Marciano vs Don Cockell. May 16, 1955. Kezar Stadium, San Francisco, California, United States. Рокки Марчиано против Дона Коккела, 16 мая 1955 г., 1, 3, 6, 8 и 9-ый раунды, победа Марчиано в 9-ом раунде (TKO)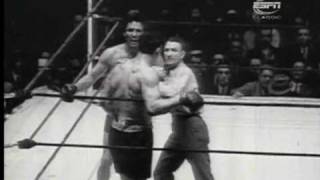 9 г. назад
Макс Бэр против Примо Карнеры, 14 июня 1934 г., эпизоды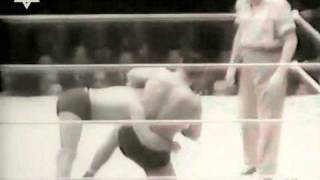 7 г. назад
Wrestling. Primo Carnera vs Jim Londos. Referee: Max Baer. 1950. Рестлинг. Примо Карнера против Джима Лондоса. Рефери — Макс Бэр. 1950 г.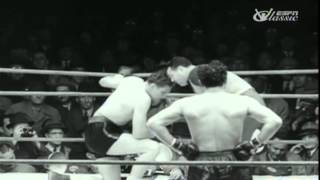 6 г. назад
26th of September, 1940.......New Jersey, USA Referee: Jack Dempsey