Film by Dick Williams.
Документальный фильм Дика Уильямса
Hearted Tiger: Max Baer
ПОХОЖИЕ ВИДЕОРОЛИКИ
4 г. назад
One of my favorite fighters of all time, Max Baer often looked as a villain was a kind, gentle champion. He had power and a great chin. This is my tribute of him with Knockouts and highlights of this great boxer.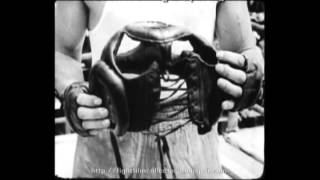 5 г. назад
Max Baer was one of the most colorful and exciting of the Heavyweight Champions. The fact that he did not hold the title very long, and lost it out of recklessness to Jim Braddock in 1935 did not darken his legacy as a boxer and personality. Much has been written about Baer's lack of training, particularly after he lost the title, but I question this notion. It's certainly true that Baer was a gifted athlete, and his discipline only went so far, but for Max boxing was a means to an end. A fighter with no training discipline would not have won the fights he did again fellow contenders like Tommy Farr, Tony Galento, Pat Comisky, Ben Foord and others until he retired in 1941. See the complete Blog and more rare boxing footage from The Fight Film Collector: http://fightfilmcollector.blogspot.com/
4 г. назад
I don't receive any money for this video, but I always highly appreciate any donations @ Paypal - [email protected] This video is based off of my OPINION. Fights which I believe warrant appreciation given the time, what was at stake and/or pure rivalry between two men or shall I say two warriors! HONORABLE MENTION: Floyd Mayweather vs Diego Corrales - Jack Johnson vs James J. Jeffries - Rubin Carter vs Dick Tiger - Evander Holyfield vs Mike Tyson - Willie Pep vs Sammy Saddler I & II - Diego Corrales vs Jose Luis Castillo - George Foreman vs Ron Lyle - Aaron Pryor vs. Alexis Arguello I -Henry Armstrong vs. Lou Ambers -Carmen Basilio vs. Sugar Ray Robinson - Manny Pacquiao vs Ricky Hatton- Manny Pacquiao vs Juan Manuel Marquez IV Enjoy! and subscribe for more boxing vids! LONG LIVE BOXING!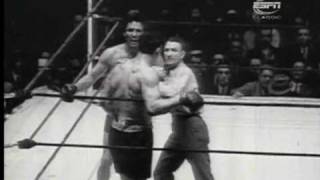 8 г. назад
Макс Бэр против Примо Карнеры, 14 июня 1934 г., эпизоды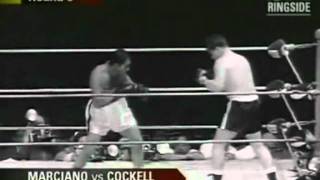 6 г. назад
Rocky Marciano vs Don Cockell. May 16, 1955. Kezar Stadium, San Francisco, California, United States. Рокки Марчиано против Дона Коккела, 16 мая 1955 г., 1, 3, 6, 8 и 9-ый раунды, победа Марчиано в 9-ом раунде (TKO)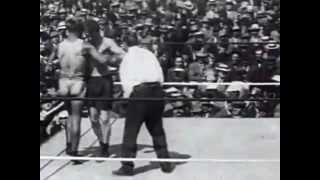 5 г. назад
Stanley Ketchel vs Billy Papke. Стэнли Кэтчел против Билли Папке, 5 июля 1909 г., 1, 9, 13, 17 и 20-ый раунды, победа Кэтчела (UD)
10 г. назад
`The Super Fight` was a fictional 1969 boxing match between Muhammad Ali and Rocky Marciano. At the time, Ali and Marciano were the only undefeated heavyweight champions in history and fans often debated who would win had they met in their primes. Ali and Marciano were filmed acting out every possible scenario in a fight and the result was then determined using probability formulas entered into a computer. The final fight was only shown once in selected cinemas around the world and later released as a DVD. In 1967, radio producer Murray Woroner had the idea of determining the all-time great heavyweight champion of the world in a series of fantasy fights between boxing champions of different eras. Woroner sent out a survey to 250 boxing experts and writers to help determine which boxers would be used in the imaginary fights. Woroner picked the first round of fantasy matches to be: Jack Dempsey vs. Gentleman Jim Corbett John L. Sullivan vs. Jim Braddock Bob Fitzsimmons vs. Jack Sharkey Jim Jeffries vs. Jersey Joe Walcott Joe Louis vs. Jess Willard Max Baer vs. Jack Johnson Rocky Marciano vs. Gene Tunney Muhammad Ali vs. Max Schmeling Punch-by-punch details of the boxer's records during their prime were entered into an NCR 315 computer. Also their strengths, weaknesses, fighting styles and patterns and other factors and scenarios that the boxers could go through were converted into formulas. The NCR-315 with 20K of memory was supplied by SPS (Systems Programming Services), an independent service bureau in Miami Fla. The algorithms was supplied by an NCR mathematician, and programming was done in Fortran by an employee of SPS. Hank Meyer, President and salesman with a one other partner in SPS, was instrumental in setting this competition up, and contended at the time that it was his idea. The actual running of the software was done the night before each broadcast round of the 'computer championship' and took approximately 45 minutes to run, the ouptut was a formatted report containing a series of codes describing each punch. This was then written to magnetic tape, the tape was then manually transferred to a Univac 1005 and printed. This early form of "foot-powered" networking was referred to as sneakernet, the reason for doing this was cost, it was cheaper to print on a 1005 than the 315. This took place in early 1968; the NCR 315 was a state-of-the-art computer at the time. The outcomes were then staged as radio plays with Woroner and radio announcer Guy LeBow as the commentators. The fantasy fights were broadcast worldwide. Even the boxers who were still alive at the time listened to the programs and some of them participated as commentators. After the series of elimination rounds, the final fight was between Dempsey and Marciano. Marciano defeated Dempsey and was considered to be the all-time greatest heavyweight champion by the computer. Woroner awarded the real Marciano a gold and diamond championship belt worth $10,000. Ali was angered over his loss to Jim Jeffries in the fantasy fights and sued Woroner for $1 million for defamation of character. The lawsuit was settled when Woroner offered to pay Ali $10,000 to participate in a filmed version of his radio fantasy fights in which Ali would fight Marciano. Ali, who had been stripped of his heavyweight title and American boxing license three years prior, agreed on the condition that he would also receive a cut of the film's profits. Marciano also agreed to participate with a similar deal. The same formulas were used again and entered into the NCR 315. In 1969, filming began in a Miami studio. Marciano, who had been retired for almost 13 years, lost over 50 pounds and wore a toupee in order to look as he did in his prime. Even for a "fake" fight, Marciano and Ali really looked forward to meeting each other and getting back in the ring. The two fighters sparred for about 70 to 75 rounds, which were later spliced together according to the computer's findings which had not yet been determined. Every probable scenario was filmed. The final outcome would not be revealed to anyone until the release of the film. Braddock, Louis, Schmeling, Sharkey and Walcott also recorded commentary to be used in the film. Marciano died in a plane crash three weeks after filming wrapped [1]. On January 20, 1970, the fight was shown only once in 1500 theaters over closed-circuit television in the United States, Canada, and throughout Europe. It grossed $5 million. The computer had determined that Marciano would knock Ali out in the 13th round and the film was edited to present that outcome. All prints of the fight except one were supposed to be immediately destroyed, per Woroner's stipulation. However, many theaters played the show long after January 20th. After watching the film, Ali reportedly said "That computer was made in Alabama," joking that Marciano was favored because he was white.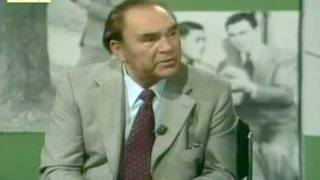 7 г. назад
Макс Шмелинг, кинохроника 4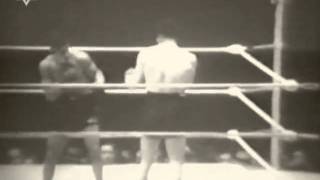 7 г. назад
Макс Бэр против Джо Луиса, 24 сентября 1935 г., все раунды, победа Луиса в 4-ом раунде (KO)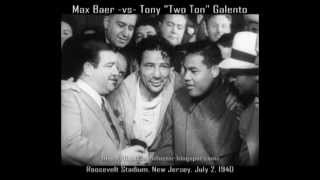 5 г. назад
The Max Baer vs Tony Galento fight film is a classic document of pre-war Sports Americana. In 1940, Max Baer and Tony Galento, the two most colorful boxers of their day, met for a title elimination showdown in Jersey City. It was a titanic slugfest. The fight began even before the opening bell as Galento threatened Baer during the referee's instructions. The two went right to work in the first round, with Galento on the attack. By round 3 however, Baer was taking control, fighting in flurries, in between clowning and taunting the relentless Galento. After 7 rounds of bruising action, Galento collapses in his corner and cannot answer the bell for the 8th. It was Baer's last victory. The Movie The film is noteworthy for several reasons. The fight was among the best filmed bouts of the day. It was also among the first fight films produced as the interstate traffic of boxing films was lifted. For the first time since 1910, boxing films could be distributed across state lines and shown across the country. As a result, fight films became feature productions in theatres, rather than simply newsreels. In the decade prior to the television boom, movie audiences were treated to complete fight pictures only days after the event. The Film This footage in this video is taken from three sources and shows all rounds of the fight. The opening potion is from a VHS copy that suffers from generation loss. Despite the lack of quality, I thought it was important to show the ring intros and referee's instructions, as it includes Galento's trash talk and threat to get "twice as rough" as Baer, as if Tony ever needed an excuse. The remaining (and superior) source footage begins after the opening bell, and is taken from an extended 16mm print, with Round 3 taken from the Castle Films highlight. The final minute includes the famous "after-battle" interview with Max Baer, Lou Costello and Joe Louis. See more historic film from the archive: http://fightfilmcollector.blogspot.com/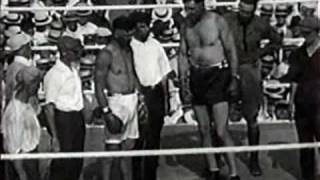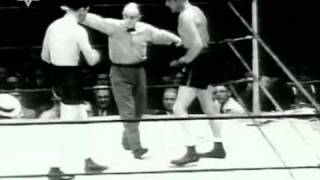 7 г. назад
Макс Бэр против Джеймса Брэддока, 13 июня 1935 г., все раунды, победа Брэддока (UD)