Wladimir Klitschko doing squats with his daughter on his shoulders.
Wladimir Klitschko and Kaya: Sundays workout squad
ПОХОЖИЕ ВИДЕОРОЛИКИ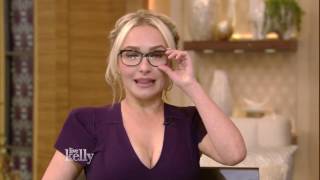 1 г. назад
Hayden Panettiere shares a video of her daughter skiing and talks about her daughter's Russian accent.
7 мес. назад
Die Trennungsgerüchte um Wladimir Klitschko und Hayden Panettiere wollen einfach kein Ende nehmen. Jetzt zeigte sich der Box-Rentner erneut bei einem Event in seiner Wahlheimat Hamburg. Ohne seine Verlobte – dafür mit einer anderen Frau im Arm ...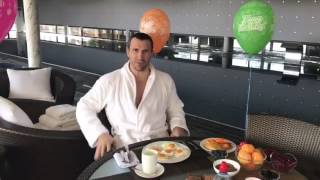 1 г. назад
Как Владимир Кличко, отметил свой 41 День Рождения. Дамы и господа, мне сегодня 41год ! Великолепное утро и я уже проплыл 150 метров за 2 минуты и 25 секунд, и это учитывая что я не профессиональный спортсмен, попробуйте проплыть так же - советую всем. Я очень рад, это лишнее подтверждение того, что возраст - всего лишь цифра! По крайней мере, я так чувствую. Всем огромное спасибо за поздравления и пожелания - желаю и Вам всем, того же! _________________________________________________________________ Two-time heavyweight world champion Wladimir Klitschko, who turned 41 yesterday, thanked his fans for birthday wishes and revealed that he is still in great physical shape - he swims 150 meters in 2 minutes and 25 seconds!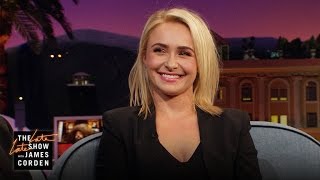 The Late Late Show with James Corden
1 г. назад
Hayden Panettiere thinks her husband, Wladimir Klitschko, will beat James' friend, Anthony Joshua, in their upcoming fight. "Subscribe To ""The Late Late Show"" Channel HERE: http://bit.ly/CordenYouTube Watch Full Episodes of ""The Late Late Show"" HERE: http://bit.ly/1ENyPw4 Like ""The Late Late Show"" on Facebook HERE: http://on.fb.me/19PIHLC Follow ""The Late Late Show"" on Twitter HERE: http://bit.ly/1Iv0q6k Follow ""The Late Late Show"" on Google+ HERE: http://bit.ly/1N8a4OU Watch The Late Late Show with James Corden weeknights at 12:35 AM ET/11:35 PM CT. Only on CBS. Get the CBS app for iPhone & iPad! Click HERE: http://bit.ly/12rLxge Get new episodes of shows you love across devices the next day, stream live TV, and watch full seasons of CBS fan favorites anytime, anywhere with CBS All Access. Try it free! http://bit.ly/1OQA29B --- Each week night, THE LATE LATE SHOW with JAMES CORDEN throws the ultimate late night after party with a mix of celebrity guests, edgy musical acts, games and sketches. Corden differentiates his show by offering viewers a peek behind-the-scenes into the green room, bringing all of his guests out at once and lending his musical and acting talents to various sketches. Additionally, bandleader Reggie Watts and the house band provide original, improvised music throughout the show. Since Corden took the reigns as host in March 2015, he has quickly become known for generating buzzworthy viral videos, such as Carpool Karaoke."
5 мес. назад
Wladimir Klitschko interview on retirement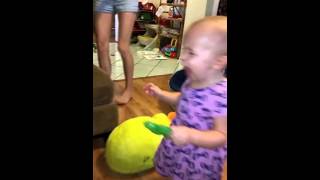 10 мес. назад
Wladimir Klitschko Lifestyle, Biography, Income, Car, House, Net Worth, Salary, Wife and Family Photos By Celebrity Time Play Again:🔻▶️ ▶️▶️https://youtu.be/W2WZbNslb9o ❄❄❄❄❄❄❄❄❄❄❄❄❄❄❄❄❄❄❄❄❄❄❄❄❄❄❄❄❄❄❄❄❄ Subscribe to Our channel-🔻▶️ ▶️▶️Link: https://goo.gl/2Dvmv0 ❄❄❄❄❄❄❄❄❄❄❄❄❄❄❄❄❄❄❄❄❄❄❄❄❄❄❄❄❄❄❄❄❄ More Related Video:🔻▶️ Check-Out: ▶️▶️ https://goo.gl/G6TmRK Check-Out: ▶️▶️ https://goo.gl/la9v6P ❄❄❄❄❄❄❄❄❄❄❄❄❄❄❄❄❄❄❄❄❄❄❄❄❄❄❄❄❄❄❄❄❄ Music : 🔻▶️ Different Heaven - Nekozilla (LFZ Remix) [NCS Release] ▶️▶️https://www.youtube.com/watch?v=4ZvnbsfXRk0 ❄❄❄❄❄❄❄❄❄❄❄❄❄❄❄❄❄❄❄❄❄❄❄❄❄❄❄❄❄❄❄❄❄ Social Site:🔻▶️ ▶️▶️Visit This Site : https://goo.gl/j4aITL ▶️▶️Facebook Page: https://goo.gl/MUpLdt ❄❄❄❄❄❄❄❄❄❄❄❄❄❄❄❄❄❄❄❄❄❄❄❄❄❄❄❄❄❄❄❄❄ Thanks for watching Please Like comment and subscribe for More informative and Awesome videos. ❄❄❄❄❄❄❄❄❄❄❄❄❄❄❄❄❄❄❄❄❄❄❄❄❄❄❄❄❄❄❄❄❄ Disclaimer: All Images use to make this video is from Google Search www.google.com & Google Advance Search to collect those images and Music are taken from YouTube Library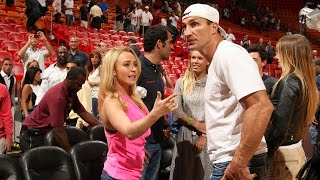 2 г. назад
Top 10 Giant Athletes & Their Tiny Lovers: 10. Kobe Bryant (1.98m) & Vanessa (1.65m) 9. Joe Flacco (1.98m) & Dana Grady (1.55m) 8. Wladimir Klitschko (1.98m) & Hayden Panettiere (1.53m) 7. Carmelo Anthony (2.03m) & La La (1.68m) 6. Magic Johnson (2.06m) & Earlitha Kelly (1.68m) 5. Chris Bosh (2.11m) & Adrienne Williams (1.52m) 4. Pau Gasol (2.13m) & Silvia Lopez (1.77m) 3. Dirk Nowitzki (2.13m) & Jessica Olsson (1.58m) 2. Shaquille O'Neal (2.16m) & Nicole 'Hoopz' Alexander (1.57m) 1. Shawn Bradley (2.29m) & Annette Evertson (1.60m) IMAGE SOURCE: Google Search MUSIC: Epidemicsound SOURCE: http://www.therichest.com/expensive-lifestyle/entertainment/10-giant-athletes-with-tiny-lovers/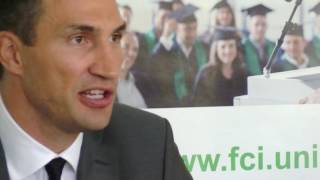 2 г. назад
Der langjährige Schwergewichts-Boxweltmeister sowie Doktor der Sportwissenschaft und Philosophie Wladimir Klitschko hat die ersten Absolventen geehrt, die den Studiengang CAS Change Innovation Management an der Universität St. Gallen absolviert haben. Knapp 20 Studenten haben seit Februar dieses Jahres an der intensiven Weiterbildung teilgenommen – und fast alle von ihnen ihre Prüfungen erfolgreich absolviert. Zusammen mit dem feierlichen Abschluss fällt aber gleichzeitig auch der Startschuss für eine noch intensivere Zusammenarbeit mit der Hochschule St. Gallen. Der Fokus liege dabei auf der Verbindung von Theorie und Praxis, so Klitschko, der "aus der Theorie des Challenge Innovation Managements eine wissenschaftliche Arbeit" machen möchte. So wurden nun auch Verträge über 4 Jahre zwischen der Klitschko Management Group (KMG) und dem Institut für Customer Insight (ICI) der Universität St. Gallen für ein neues Kompetenzzentrum unterschrieben. Wladimir Klitschko bastelt also längst an seiner Karriere nach seiner aktiven Zeit als Boxer – und findet offenbar Gefallen an seiner neuen Rolle als Dozent. Welche weiteren Ziele Klitschko in den nächsten Jahren hat, welche Eindrücke er aus den vergangenen Monaten mitnimmt und welche Figur der langjährige Box-Champion mit Talar und Doktorhut macht, das erfahren Sie in der AWP-Videoreportage.
3 г. назад
In the latest issue of People magazine, where the new mom poses with her daughter and fiancé Wladimir Klitschko , the Nashville star gushes about motherhood. Describing life as a parent as "such a surreal experience and so out of body," Panettiere, who named her new baby Kaya Evodkia , says, "You're suddenly looking at this little thing like, 'Oh, that was you in my belly this whole time." However, the 25-year-old does say that the recovery process since giving birth hasn't been as smooth as she'd hoped. http://www.celebuzz.com/2014-12-23/hayden-panettiere-new-baby-daughter-photos-post-pregnancy/ http://www.wochit.com
7 мес. назад
Lange und oft wurde gemunkelt: Sind Ex-Boxer Wladimir Klitschko (41) und Schauspielerin Hayden Panettiere (28) etwa getrennt? Der letzte gemeinsame Auftritt liegt schon längere Zeit zurück, Fragen zu seiner Verlobten wich der Sportler immer geschickt aus. Die Gerüchte um ein Liebes-Aus wurden immer lauter – bis jetzt! Nun wurde das berühmte Paar gemeinsam in München gesichtet – total entspannt und verliebt. (lde/mbu)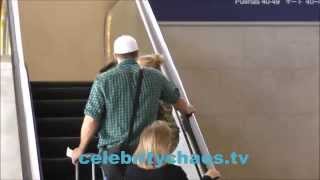 2 г. назад
hayden panettiere and wladimir klitschko look like a happily married couple. Wladimir is asked about boxing champ Floyd mayweather